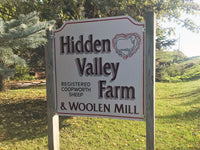 Coopworth Sheep & Wool Products from a Family Owned Wisconsin Farm
Hidden Valley Farm & Woolen Mill has been providing custom fiber processing since 1997. Our specialty is unique and beautifully blended rovings with many stunning, one-of-a-kind colors that are perfect for spinning and felting. We also offer custom carding services, quilts and batts, yarns, raw wool, sheepskins, and sheep.
About Us
Pastured Lamb for Sale
We offer many different cuts of lamb, as well as processed lamb products including hot dogs and sausage.  Whole lambs and package options are also available.
See Price List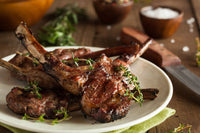 Customer Testimonials
I had fiber processed here and it's just lovely - and reasonably priced. Carol helped me sort through my fleeces and pair things up, and was generally great to work with. Plus their own roving is gorgeous too, in lovely colorways. Kudos to them!

Elizabeth Meister
Loved everything here, especially the sheep. Helpful, friendly staff.

Margaret Hunt-Wilson
I have used wool roving for needle felting and wool batt for stuffing from Hidden Valley Farm for years and have been extremely satisfied. They are easy to work with and offer a variety of high quality products. Highly recommend them!

Marie Mayhew
Went there with the Manty Knitters this past spring. Enjoyed the tour, learned a lot. Got to hold a lamb! The yarn store is upstairs, so if you are handicapped, you may need some help! But it is worth it when you get up there! We thoroughly enjoyed ourselves!

Julie Sachse
The owners are great and we saw so many lambs!!! We learned so much!

Bruce Muller
We had a great time visiting the store and seeing the sheep! Very friendly, helpful place! The scenery is beautiful!

Karen Despres
So delighted to have discovered this place today. Products and staff were wonderful, Came home with yarn, socks, food products. Definitely intend to go again, hopefully regularly. Thank you!

Peg Arnoldussen
Have known and purchased raw fleeces and rovings from Hidden Valley Farm & Woolen Mill for many years. Have also used their carding services. HIGHLY recommend the fibers and the processing!

Tami Sue Merkel Mulder
One of the most beautiful fleeces I've ever worked with! Their roving is also fantastic!

Sara Rakow